Wife Allegedly Kills Husband And Buried Him In A Shallow Grave (Photos)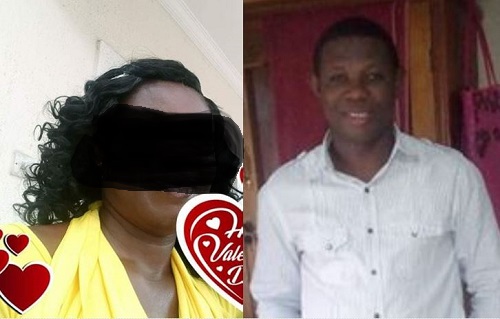 A Rivers man has been found buried in a shallow grave, with the wife being interrogated as the prime suspect, months after being declared missing
The decayed body of a Rivers State indigene, by name Inedukoba Charles Tyger, was on Tuesday, June 25th, unearthed from a shallow grave in Abalama Sandfield Asari-Toru LGA, in Rivers State, several months after being declared missing by family and friends.

However, a friend of the deceased, Ibiye Dokubo, had earlier raised alarm on February 26th, through his Facebook page, that Inedukoba Tyger, had gone missing.
According to Dokubo's post, Inedukoba Tyger and his wife were at the moment having some misunderstanding after she discovered he had impregnated another lady.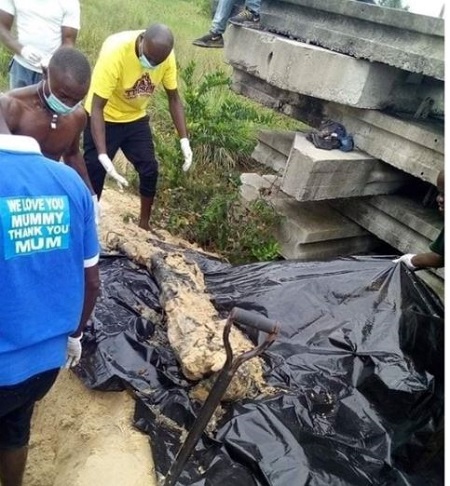 Dokubo who shared the post on social media platform wrote;

MISSING PERSON!!!
"I don't know what to say for now but I remembered the last time you spoke with me that you are with your wife in Abalama and I insisted you give her the phone for us to talk and I queried her of her decision to reconcile with you on that Saturday evening but up till now we cannot hear from you and your wife have left to somewhere only God knows, but I pray you to come alive to tell us what happened…but as for her if she knows what transpired as your wife then she cannot hide forever because the long arm of the law must surely cut up with her."
Also In another post shared on March 1st, Dokubo wrote;

"This is the wife of the missing man Mr. Tyger Inedukoba Charles, he was with her on Saturday before his sudden disappearance till date, they had issues because he impregnated another woman and up till now she had packed out of their rented apartment, she had transferred herself to an unknown LGA, she doesn't pick her calls and she is hiding from the truth so please help me share this until we get her arrested or better still report her to any police station if you see her. Thanks"

After weeks of detailed investigation and search, the decomposed corpse of Mr. Tyger was exhumed yesterday, June 25th in the Asari-Toru local government area in the state.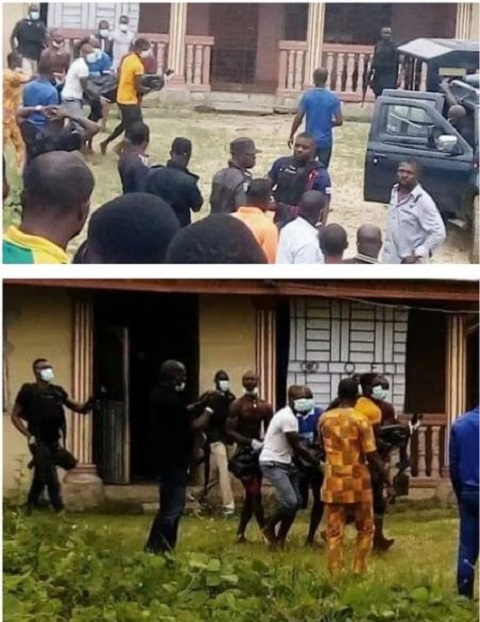 Meanwhile, the wife, Ajemina Douglas, has been accused of perfecting the killing and burying his remains under the bridge. She was then arrested by the police before leading some officers to the shallow grave where he was buried.

The state police command, is, however, yet to release a statement on this situation
Man Jumps Into Lagoon From Third Mainland Bridge Lagos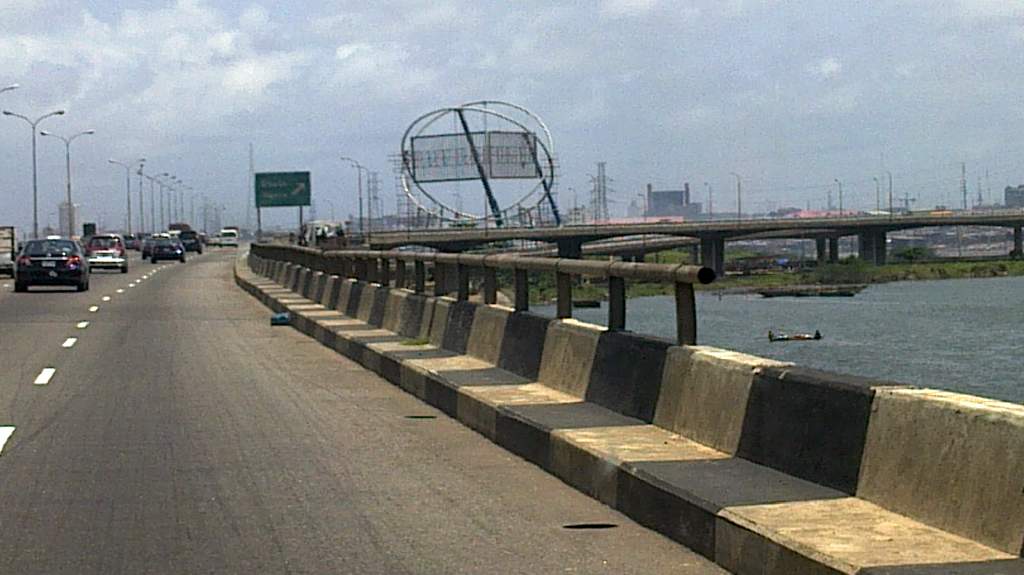 A man, 22, jumped into the lagoon from the third mainland bridge yesterday. The man identified as Daibo Toju Davies resides at 17, Sosanya street, Gbagada.
A report said that he had engaged the services of an Uber taxi from a hospital before the occurrence. He allegedly stopped the Uber on the bridge pretending to be having a running stomach before plunging into the lagoon.
Lagos State Emergency Management Agency public affairs officer, Nosa Okunbor said they are making efforts to rescue the man.
He said;
"He should be in his mid-twenties. He ordered a car-hailing service from Gbagada to the Island. He deceived the UBER driver that he had a running stomach after which he jumped into the lagoon.
"As I speak with you, the marine unit of the Lagos central zone has been searching for the victim since 11:30 am, but we have not found the body."
Two luggage with his personal effects and affidavit were discovered on him.
Watch the video here;
Police Van Picks Passengers In Lagos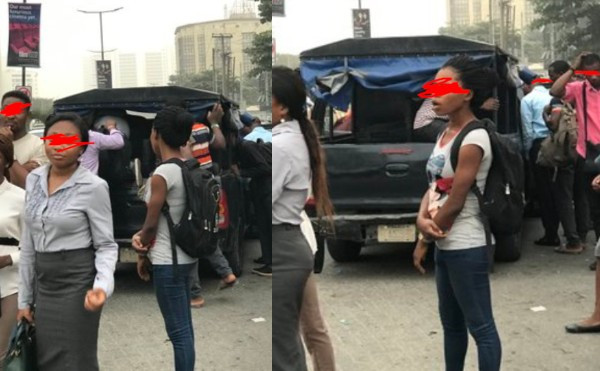 Police van has allegedly been used for commercial purposes in Lagos. This is due to the ban on commercial motorcycle and tricycle popularly known as Okada and Keke Napep in some parts of Lagos.
This is captured by a Twitter user @caren_diala who captured the moment Lagosian rushed to get a seating space in a police van.
Read her tweet;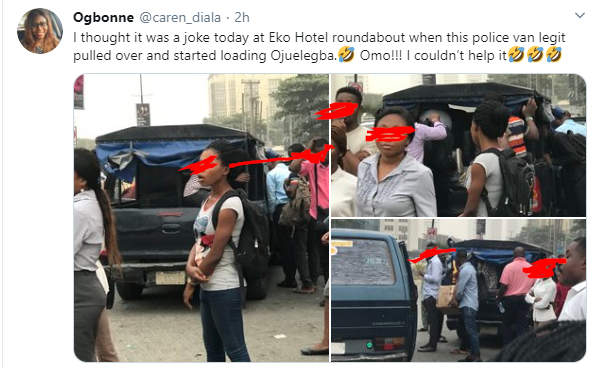 Policemen Arrest Colleagues For Obtaining Bribe In Lagos (VIDEO)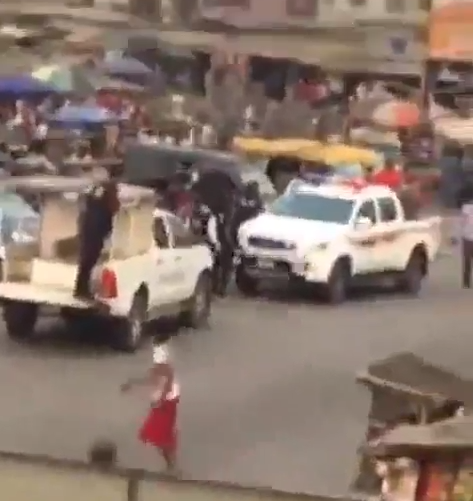 A video has surfaced online showing some policemen arrested by their colleagues for obtaining bribe.
Also, the officers are attached to the Nigeria Police Special Squad 'Operation Puff Adder'. So, they stormed the spot in patrol their patrol van and arrested the officers collecting bribe at the Ijesha area of Lagos State.
Watch the video here;